They had a legacy library management system with an uninspiring interface. Integration with their other IT systems was a challenge. Tyndale Christian School's vision was a library system that delivered a seamless experience for users within a single coherent cloud-based network.
| | |
| --- | --- |
| Type  | Early learning through to secondary |
| Roll | 2,000 (approx.) |
| Campus | Three campuses |
| Teachers | 130 |
| Staff | 50 |
| Install | Cloud |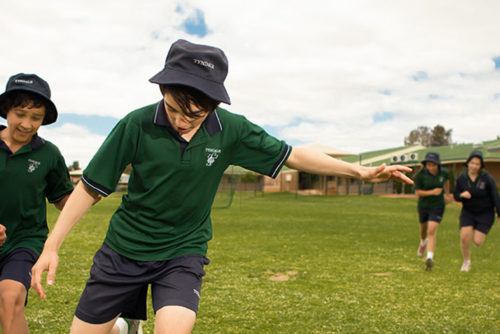 A clear vision led Tyndale to Accessit – the clear solution to everything they needed to deliver one seamless user experience.
 
One seamless experience
---
Tyndale Christian School, in Adelaide, South Australia, was established over 30 years ago. The founders were Christian parents who wanted their children educated in an environment that would support their family values and faith.
Independent, co-educational and inter-denominational, the Tyndale Christian School has three campuses and 2,000 students. Initially formed as a junior school with 137 students and 10 staff members, Tyndale has grown to provide early learning, junior, middle and senior schools.
Typical of many schools that have grown over time, the school's IT infrastructure has grown 'organically' in response, creating challenges from time to time. The library management system was essentially a solid mature system. However, because of legacy issues, it was running several releases behind.
Integration between the library and other school systems was a real challenge. And from a user's perspective, the library system had a dated user interface that did little to encourage student engagement. It was a pretty underwhelming experience.
The school also faced increasing challenges with support. They needed a system that the school was better able to manage. As Tyndale's Learning Innovation Facilitator John Haynes put it, "to control our own destiny".
A big vision
---
The team at Tyndale had a big vision – the transformation of the school's IT infrastructure into a single coherent enterprise-wide network. They wanted to deliver a seamless experience for all types of users, from teachers and students, to system administrators and others. The team began by developing an IT Strategic Plan and creating a roadmap of school library system reviews and improvements.
John's view is that technology is a tool that shouldn't get in the way of the learning or the task a user is wanting to do. "The philosophy of a user interface has changed significantly over recent years. While integration and function are vital, an intuitive, clean and concise user interface is equally important," says John.
As a Microsoft shop, he also wanted single sign-on (SSO) access to cloud applications using Microsoft's Azure Active Directory – a critical aspect to enabling a standardised cloud-hosted service.
Hard questions and straight-up answers
---
Armed with a clear vision, Tyndale started the process of finding a new library management system that would meet the school's current and future needs. Having made a shortlist of three library systems, a tight review team of key users was set up – Director of eLearning Josh Martin, Resource Centre Manager Tara Burton and John.
The team defined their wish list of requirements and invited vendors to the school for product demonstrations. They also talked to other schools in the area already using one of the shortlisted systems and visited these schools to see first-hand the library system in operation.
"This gave us the chance to talk directly with people who knew and had lived with the system. We got to ask a lot of the hard questions and get straight-up answers," says John.
The team was now armed with a greater understanding and invaluable input from Resource Centre Manager Tara Burton's many discussions within her professional network of school librarians and resource managers. They began evaluating their shortlist against their wish list.
One clear choice
---
Accessit Library came out as the clear choice. Throughout the discovery process, the Accessit solution almost sold itself. The review team was really impressed when they saw the system in action. "We liked the way it opened straight away. We liked its intuitiveness and how easy it was to use. It has a dashboard (Web Opac) that looks and feels great, and we certainly liked what we had heard from other customers," says John.
No significant IT change is without risk. However, the Tyndale team felt confident that the Accessit team had a good process for managing and mitigating any migration and installation risks. "Tyndale was the first school that Accessit had set up using Microsoft's Azure SSO authentication. Enabling the solution took some significant system development by Accessit, but it proved to be no problem."
For Tyndale, Accessit has more than lived up to expectations, and the system has delivered on what it promised in every way. John feels that it has been a very positive experience. "The on-boarding process was well managed, and the development team was knowledgeable, professional and positive to work with. We have received great support from everyone at Accessit," he says.