Lost data, system crashes and library shutdowns. It was time to look around for something better. Librarian Kris Parlane's advice is, "Don't wait or let fear hold you back." Moving to Accessit was a good decision and surprisingly easy.
| | |
| --- | --- |
| Type  | Primary school |
| Roll | 587 |
| Campus | One campus, two libraries |
| Teachers | 23 |
| Staff | 15 |
| Install | Local installation |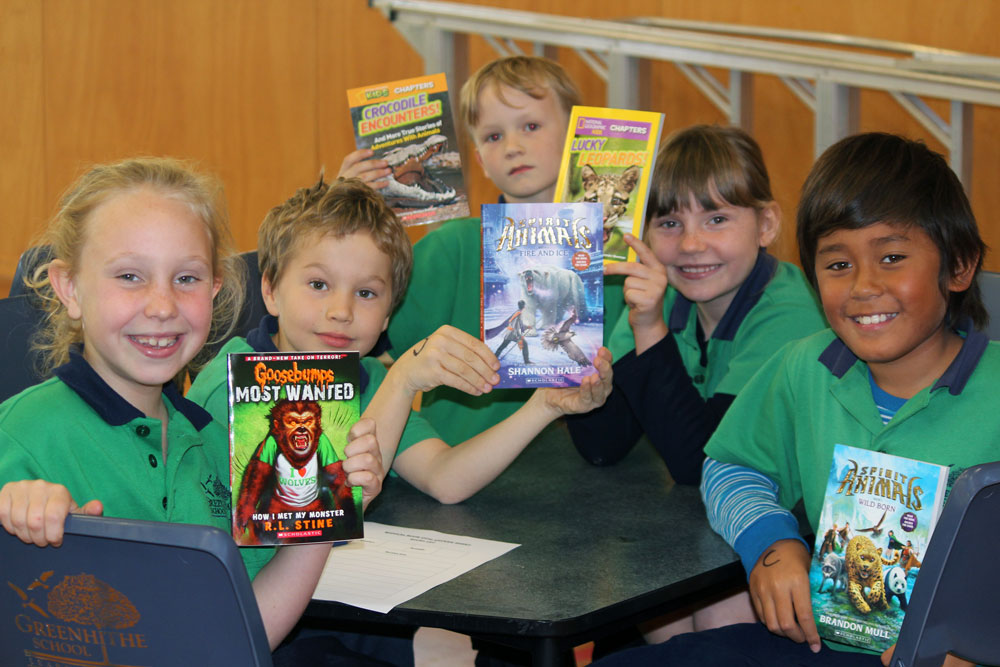 When you know what you want
---
With a fast-expanding school roll, Greenhithe School, on the North Shore of Auckland, was facing ongoing issues with their school library system. It just wasn't keeping pace with the size of the school and the expectations and technical requirements of librarian Kris Parlane.
A lack of updates, an uninspiring interface and virtually no support for the problems they were encountering on a daily basis was proving frustrating to say the least. But it was a period of repeated system crashes, resulting in some data loss, and regular library shutdowns that prompted Kris to say enough is enough. Fed up, Kris prepared a report for Greenhithe's Principal, recommending a review of alternative library systems.
So, how do you choose?
---
Kris started out by identifying a range of schools, across New Zealand, similar to Greenhithe School. "I visited some of these schools and met with their library staff to see first-hand what they were using. I also emailed other library staff in New Zealand and Australia to gauge their level of satisfaction with their systems' performance," says Kris.
Kris narrowed the choice down to a shortlist of just two library management systems. She checked with Greenhithe's IT consultants and reported back to Principal Peter Marshall and the Board of Trustees. Keen to progress, Kris arranged a demonstration of both systems, and Accessit was judged best across all their assessment criteria. They had their new system.
Surprisingly easy
---
The prospect of migrating the existing school library system and data to Accessit was a little daunting for Kris. "I expected this to be painful and time consuming, despite the reassurance I was hearing from the Accessit team and some of the other librarians using the system I talked to," recalls Kris.
"But I really had no reason to worry. I was surprised by how smoothly everything went. There were no major problems, and the communication along the way was great. Everything happened remotely, and the Accessit team were so friendly and helpful."
Kris also anticipated that it might be hard to get teachers and students using the new system. This wasn't at all the case. "It was such an improvement on the old system that, once they got started, they enthusiastically and quickly learned how to use it. The students especially loved the ability to write their own book reviews and reserve books. Our teachers loved the One Search feature and how easy Accessit was to use," says Kris.
Great benefits

---
For Kris and assistant librarian Bettina Buffey, the speed and ease of cataloguing was a big surprise. In fact, they found it so much fun to use. They even started cataloguing items around the school that had never been catalogued before. "There have been great improvements in our ability to track items in both the school library and the teachers' resource room library," says Bettina.
Kris says, "Usage statistics and patterns of borrowing are now much easier to see and report on, and we're feeding this information back into the school's literacy program. Setting up the (Web Opac) dashboard is also great fun. We can put up news and links to new books and literary events and insert videos including book trailers."
Kris said the system support was another pleasant surprise. "After largely being ignored by our previous system provider, we had pretty low expectations. But again, that wasn't the case. The initial training was fantastic, and the customer portal is a wonderful support resource. We can also attend the annual Accessit roadshow. Any time I've had a question, the response from the support team has been fast and friendly."
Don't settle for less than great
---
For Kris and Greenhithe School, moving to Accessit was the best decision the school could have made. Having now been through the process, would she have responded much sooner to shortcomings and problems of the previous system? On reflection, yes, says Kris.
Kris says, "Going through the changeover was so much easier than I thought it would be. It's very easy to accept a difficult situation and put up with what you're using, assuming that all library systems are pretty much the same. I can tell you there is a vast difference, and I really only appreciated that when I had a demonstration on Accessit. I truly did not know that so many of the things she showed me were even possible.
"My advice to other librarians is don't wait or let worry hold you back. Get a demonstration from one of the experts, or at the very least get along to the next Accessit roadshow in your area. There won't be any scary hard sell, and you won't regret it. I actually found it fun (in a very librarian sort of way!).
"Changing to Accessit has upgraded the library service we offer to students and staff at our school and made my job so much easier and more enjoyable."