Four years ago, Saint Kentigern Boys' School, Saint Kentigern Girls' School and Saint Kentigern College went looking for a single library management system that was easy and flexible enough to suit them all.
| | |
| --- | --- |
| Type  | Preschool, Primary, Secondary |
| Roll | 2,650 |
| Campus | Four schools across three campuses |
| Teachers | 150 fulltime |
| Staff | 50 fulltime |
| Install | Local installation |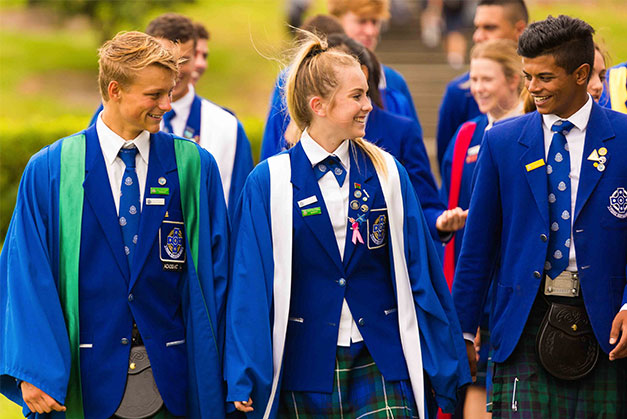 Finding Accessit

---
Four years ago Saint Kentigern was looking for a single library management solution they could use across all of their schools, located on three campuses in Auckland, New Zealand.
At the time, they were using the Oliver library management system. Anita Vandenberghe, the Information Specialist of Saint Kentigern College, was part of a three-strong assessment team who visited four schools – two using the most recent Oliver upgrade and two using Accessit.
"Oliver were promoting a more intuitive system with their update, but we'd heard very good reports about Accessit, so we thought we'd look at both systems. Pretty quickly we saw Accessit was the way to go."
"We liked the clean front end of the Accessit dashboard. It's easy on the eye and easy for the students to use. The librarians told us they also have a very good back end with good support, and they hold a New Zealand roadshow annually – so you can go and ask questions and be supported in a way that we'd really missed with Oliver," says Anita.
One system to please them all
---
Between them the four schools cater for more than 2650 students, from pre-schoolers through to eighteen year olds – as well as their parents, generalist and specialist teachers, and unique departments. Accessit's ability to service this diverse range of users appealed to the Saint Kentigern assessment team. They wanted a library system responsive to all their users' catalogue needs, including a great digital platform. The team knew there was an insatiable desire for all things digital and accessible 24/7 via Android, iPhone, desktop or laptop.
"Our customers can access our new catalogue from their car, library, home…wherever they have access to the Internet they have access to us. One click takes a user to the record and one click actions something."
"For us the stocktaking feature running in the background is very valuable, and generating QR codes, when cataloguing links or PDFs, is handy too. Rapid entry means that with one scan of the ISBN number we have access to six major catalogue databases – such as the Library of Congress, SCIS and WorldCat – which saves heaps of time."
"Accessit makes it very easy to be organised and see where you are. Actual items – which include magazines, DVDs, ebooks, e-audiobooks and technology items like cameras or iPads – can be in different physical locations. We've secured all our items and connected them to the catalogue."
"I would say to anyone, 'go to a forward-thinking school and ask their Librarians or Information Specialists, who are working with Accessit, about the system and make yourself familiar with it'. I'd also say, 'visit the Accessit roadshow'. Colleagues come with questions you didn't even know you wanted to ask," says Anita.